How Much Current Does An Overhead Crane Use?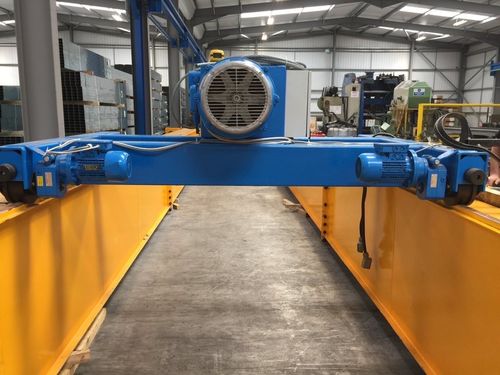 We currently have a new and un-used 16t SWL Demag ZKKE double girder crane for sale.
The current span of the crane is 22376mm, but we can shorten this to fit into your workshop, and add rails if required as well as free standing columns. The hoist unit or crab unit as it spans/straddles the 2 crane beams is a Demag EZ DMR. This is an ultra low headroom version.  From the wheel to the top of the hoist
What Kilowatt Ratings Do Electric Overhead Cranes Pull, or Use? What Start Up Current Do Overhead Cranes Draw?
Factory cranes, or overhead cranes use electricity to move them. They use the most power or draw the most kilowatts when starting up. Electricians always ask us what is the the start up current of a crane? This particular crane REF AG430 uses 9.3kW on the hoist, 2 x 0.63kW on the cross travel motors, and 2 x 1.7kW on the long travel motors.
How Do I Work It Out How Much Current or Kilowatts An Overhead Cranes Will Use?
The 16 tonne lifting capacity crane featured in this example draws on start up 9.3kW on the hoist motor, 2 x 0.63kW on the cross travel motors, and 2 x 1.7kW on the long travel motors. If we add all three together it comes to 13.96 kilowatts, or kW.
What Speed Is A 16 tonne SWL Demag Overhead Crane?
The crane is what we call 2 speed all motions. That is 2 lifting speeds, fast and slow, 2 lowering speeds, fast and slow, 2 cross travel speeds, fast and slow, 2 long travel speeds, fast and slow. This allows for smooth operation and safe movement and handling as well as precise positioning of goods and equipment.
How Heavy Is A 16 Ton Overhead Crane? How Heavy Is A Crane Hoist?
The crane weights exactly 11830kgs in total. This is made from 8776kgs  for the main beams, 1336kgs for the Demag hoist unit, 1606kgs for the end carriages (crane travel units) and 112kgs for the electrical control panel/equipment.
What Forces are Imposed by An Overhead Crane? What Is a Crane Buffer Force Load?
This particular crane has buffer forces imposed 17.85kN. The maximum wheels loads are as follows; max. Qc1/Qh1 3194 kgs / 7422 kgs. These are the loads imposed onto the supporting structure, floor or building when the crane is traveling, with and without a load on it. Structural engineers often call them the "over turning moments".
This 16 tonnes Demag double girder crane weighing 11,830kgs has forces imposed from skewing (for minimum crab approach) of S 20.09 kN.
Click here for more information on what is an overhead crane, or overhead cranes explained?
SPAN:
22376mm wide, crane wheels to top of hoist 1043mm, including 100mm BS clearance.